Queer Equality Support Team (QuEST) are a small team with big goals.
The primary aim of QuEST first and foremost is to support LGBT+ children & young people, up to 18 years old, across Aberdeenshire, in partnership with Aberdeenshire Council. Our LGBT+ Inclusion Advisors (LIA) will visit young people in their local area, provide one-to-one support, offer advice & information and signpost to local services. LIA's will also deliver LGBT+ Awareness training to school communities, to both adults and young people & provide phone/email support across all local authority schools.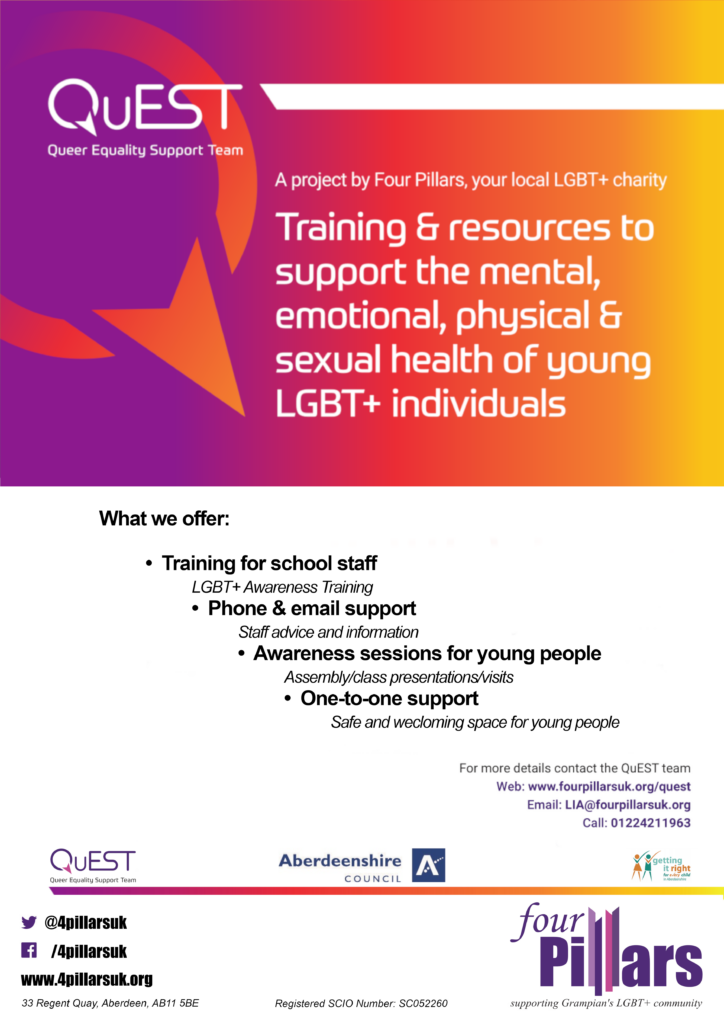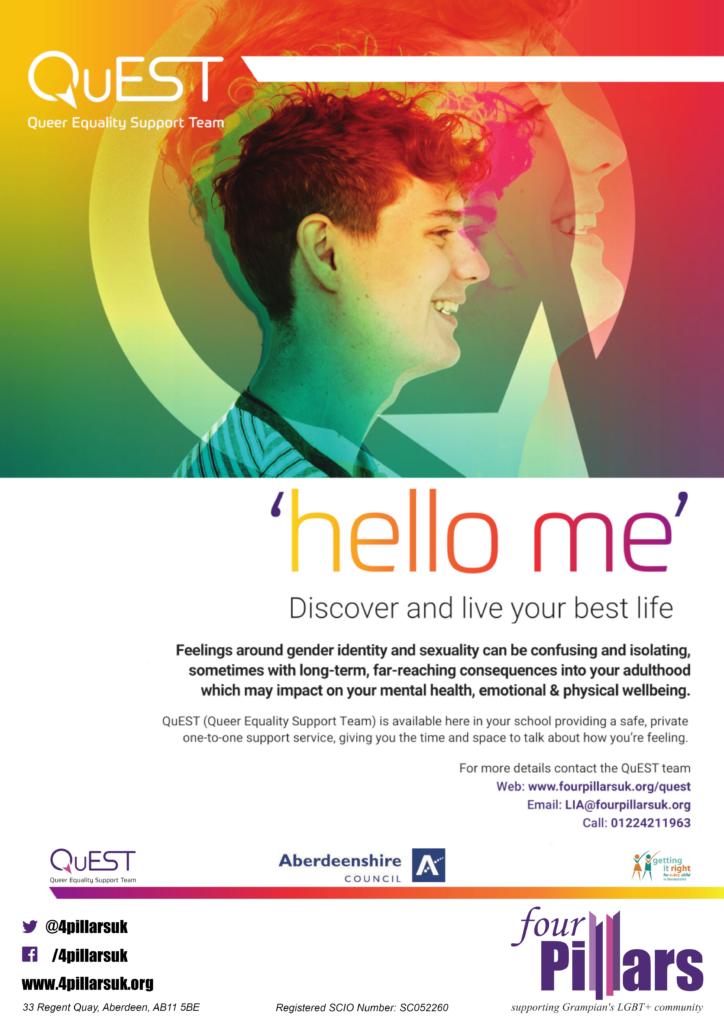 Training for school staff 
Our training courses help educate schools and organisations about the ever-changing world of the LGBT+ community. Our LGBT+ Inclusion Advisors (LIA) offer LGBT+ awareness training for school staff which will help give an understanding of issues that affect the LGBT+ community, and support to work more knowledgeably and sensitively with LGBT+ people and more.  
 Awareness sessions for young people 
LIAs also offer awareness sessions for younger people, these could include school assemblies or class presentations. These sessions will help educate young people about some LGBT+ terminology s such as lesbian, gay, bisexual and transgender identities and explain the differences between them. They will teach about homophobia and its impact on members of the LGBT+ community. We will also share where young people can get advice and support.  
 One-to-one support 
Our one – to – one sessions are a safe and welcoming space for young people of the LGBT+ community to come to talk and share their feelings with an LGBT+ Inclusion Advisor, in a non-judgmental environment. These sessions can help build self-esteem, give advice on building healthy relationships, coming out, family issues, keeping safe in general and much more.  
 Phone & email support 
Things happen within the school environment that are out of your control, an incident of homophobia, a young person struggling with coming out, someone being isolated because of their identity. For this reason, we offer a fast response service where you can contact us for advice & information on these topics and more. Please email LIA@fourpillarsuk.org for this service, and one of our LIA team will get in touch as soon as possible.