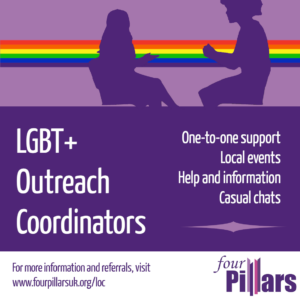 LOC SUPPORT
LGBT+ Outreach Coordinator (LOC)
Four Pillars provides one-to-one services to discuss matters such as: LGBT+ relationship issues, coming out, family issues around your identity, transitioning, sexuality, sexual health. We also cover other areas, so please feel free to ask.
We DO NOT provide counselling services and/or cover mental health diagnoses, autism or trauma-informed counselling. However, we fully understand and appreciate these can impact LGBT+ specific issues, we will happily discuss your options with you so please reach out.
To organise a one-to-one session with one of our staff/volunteers please complete the form by clicking the request now button.
We are creating a map of Aberdeenshire's best GP practices for the LGBTQ+ community. If you have had positive experiences with your GP, please take 5 minutes to complete this survey and let us know about them. We will use this data to create a map of recommended Aberdeenshire GPs, which can be viewed on our websites health page.