We know the last 12 months have been extremely hard for many members and we hope those that have needed it have utilised our support packages (4ever friends, 1-2-1's, online groups) all these are still available moving forward so please don't suffer alone, get in touch if you need to.
There is light at the end of the tunnel! and our Board has now set out Four Pillars' plans to re-open in the near future.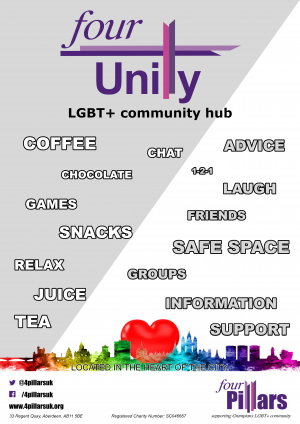 From 5th April 2021 
All groups will be open to physical meetings again, as well as zoom for those who can't travel, once again we will have limited space within the hub and clients can now book a space here https://www.fourpillarsuk.org/book/ *please follow government guidelines around local restrictions and travel*
From 26th April
The hub will be open by appointment only with selected times throughout the day. This will allow for a "soft opening" to ensure your safety and the safety of our volunteers is maintained.
From 1st May 2021
Four Pillars Hub will be open for drop-in services and all other services as before. We would prefer it if you can book but walk-ins will be allowed (space permitting)
We are looking forward to welcoming new and old customers through our doors again. And we really hope you like the new Hub on Regent Quay. So whatever your reasons are, whether mental, emotional, physical, or sexual health advice, information & support we are here for you. Online, on the phone, and from the 1st May in the Hub.