CHARITY STALL APPLICATION
PRIDE '23
The deadline for applying for a charity stall at Grampian Pride® is 28 days prior to the event in which you wish to attend. *Please note events may be closed due to capacity being reached*
Grampian Pride will take place in:
Inverurie on 11th March 2023
Stonehaven on 15th April 2023
Banchory on 29th April 2023
Aberdeen on 27th May 2023
Peterhead on 10th June 2023
Fraserburgh on 24th June 2023
Huntly on 15th July 2023
The Grampian Pride® 2023 Stalls Guide can be downloaded here. *We have extended the deadline for Aberdeen to the 20th April*
Any queries, please contact us here.
Please note, this page is for charity / non-profit stalls only. If you wish to book a stall to sell merchandise or food, please find the correct form here.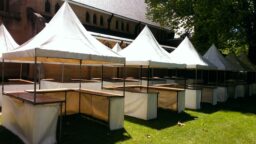 *We have extended the deadline for Aberdeen to the 20th April*
*Please note events may be closed due to capacity being reached*