Grampian Pride® is back to bring the local LGBT+ community and its allies together. Are your rainbows, glitter, and costumes ready? Not got yours yet click here for our shop 
On Saturday 27th May 2023, we will be taking over the streets of Aberdeen to celebrate our beautiful community and be proud. 
And now you're wondering: What's actually happening on the day?  You can find all details below. 
Grampian Pride parade from 11am to 12pm
The parade will start at 11am from Holburn Junction (Albyn Place) and end at Marischal College around 12pm, with our four-legged friends (your puppies

)

leading the parade.

We are looking for a group to hold the Grampian pride banner at the front of the parade (behind the dogs) if you are part of a group and would like to volunteer please get in touch via our contact form.

If you are part of a group/organisation

with more that 20 people attending the parade please register following the apply link above

We will be operating an arrival queuing system from 9am, meaning the earlier you arrive, the closer to the front of the parade you'll be.

Quick note

There is no need to get a wristband for this part of the event. Simply arrive on the day and join in the fun.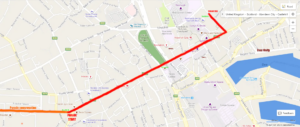 Grampian Pride Village from 1pm to 6pm
You will need a wristband to get into the village area, make sure you have booked your Ticket in plenty of time. you can then exchange your ticket for a wristband at Four Pillars from the 14th March to 26th May, during opening times, if you can't make it in during the month, don't worry, we will have a stall at Marischal Sq from 10:30 – 12:30 & at the main gate from 12:30 for you to exchange there. 
At the village site we will have:
Main stage, "Basshunter" headlining at 4pm, and various local artists entertaining you continuously from 1 – 6pm

Charity engagement, with 13 different charities providing freebies, advice, information and engagement

Outdoor bar & Tiki Tent, complete with live music, local DJ, bringing you the latest and best tunes for your Pride enjoyment

Various foods stalls are available throughout the site, suitable for all needs

Bouncy Castle, children's play area, story time, rides and much more for the whole family
We hope this outline gives a better idea of what our Grampian pride event will be like. 
And Psst… Have fun on the day! Costumes, music, flags, noisemakers, banners, balloons, and smiles are more than welcome! Not got yours yet click here to get them now.
We're delighted to be able to offer an event that is so important to our community and its allies. We have and continue to fight a huge battle in equality and human rights. So, stand tall, stand proud, be you. 
Headliner: Basshunter
Hosted by Scarlette Diamonte
13:40 – Rachael Beedie (Charity Speaker)
13:55 – Matt Midler (Keynote speaker)
14:05 – Annie Wallace (Speaker)
14:15 – Scarlet Diamonte
14:25 – Spiralmind
15:00 – Jaxon
15:25 – Ziggi Battles
16:00 – Basshunter
16:30 – Scarlet Diamonte
16:55 – J D Music
17:30 – Heartbreak Avenue
We have a variety of organisations joining us this year including:
Aberdeen and Aberdeenshire Greens
Aberdeen City Fostering
Aberdeen Foyer
Aberdeen Frontrunners
Aberdeen Taexali Rugby Club
Absafe SCIO
Alcohol and Drugs Action
Asthma and Allergy Foundation
Autism Understanding Scotland
Conservative and Unionist Association
Equality Network
Families Outside
First Bus
Four Pillars
GREC
LUSH Aberdeen
Marie Curie
Mental Welfare Commission Scotland
NesCol
NHS Grampian – Healthpoint
NHS Grampian – Sexual Health
North East Suicide Prevention Team –
SAMH
Penumbra – Wellness Services
Petrofac
Police Scotland
Rape Crisis
Rape Crisis Grampian
Revolution Bar Groups
Rotary Hub of Opportunities
Royal College of Nursing (RCN) Grampian and Orkney Branch
Scottish Prison Service
Scottish Fire & Rescue
Shelter Scotland
St Andrew's Children's Society
Subsea 7
The Aberdeen Law Project – Hate Crime Awareness Project
Time for Inclusive Education
There will be a variety of vendors on the day serving food, drinks and more:
G&M Whyte – Burgers 
The Wee Brown Mouse Bakery – Bakery goods
A-Z Delicious Donuts – Fresh Donuts
Skoff Catering – Hot Dogs
Shorty's Ice Cream Parlour – Ice Cream & Milkshakes
Little Miss Whippy – Ice Cream
Union Kirk – Pizza
Unique Skin Cosmetics – Skin Care Products 
Cheerz – Alcohol